Contents:

Foreword by Dr. Rudolph Kuper

Introduction

PART 1: EARLY MISSIONS
The first phases of the Desert War in Africa
Secret missions of the Abwehr in North Africa
Mil.-Geo. and Almásy's involvement
Sonderkommando Ritter
Plan el-Masri
1st Operation Kondor

PART 2: OPERATION SALAM
The Desert Campaign in late 1941/early 1942
Prelude to Operation Salam
Preparations
Vehicles and equipment
Finally: Operation Salam begins!
From Gialo to Assiut
Return to Gialo

PART 3: THE AFTERMATH
British Coutermeasures: Operation Claptrap
Almásy's departure from North Africa
The spy-mission: Operation Kondor
Further Abwehr missions in Libya
Epilogue - summary and conclusions

APPENDIX 1: PERSONS, NOTES & EXPLANATIONS
Detailed biographies
Other persons of interest
Notes & explanations

APPENDIX 2: PRIMARY ORIGINAL SOURCES
Operation Salam - diary 15 to 29 May 1942
Stanstede, Hans-Gerd: Unpublished Memoirs
Transcripts of intercepted W/T messages

APPENDIX 3: REVIEWS, BIBLIOGRAPHY AND OTHER SOURCES
Review of publications on Operation Salam/Kondor
Bibliography
Archives
Photographs
Maps and sketches
Relted movies and documentaries

GLOSSARY


Sample pages: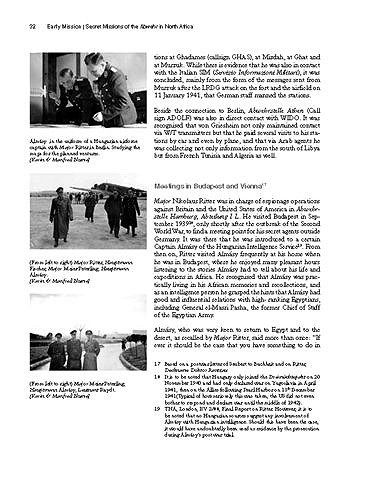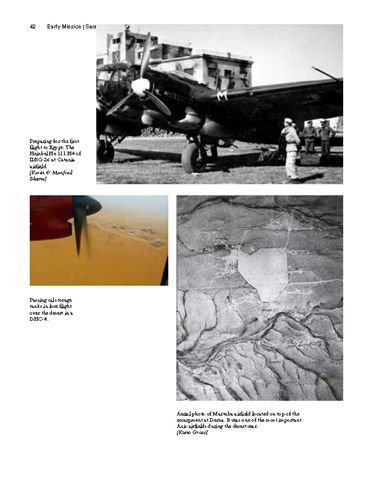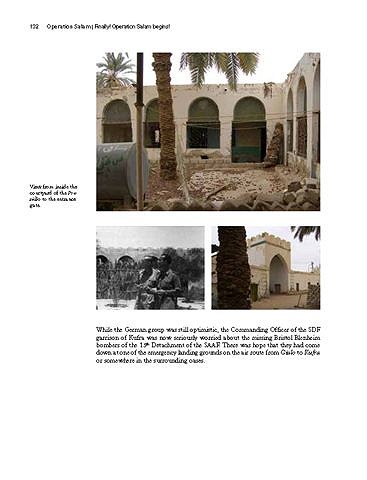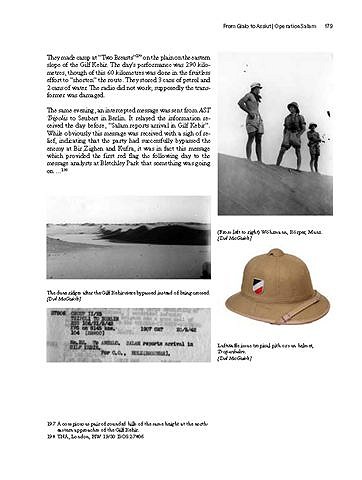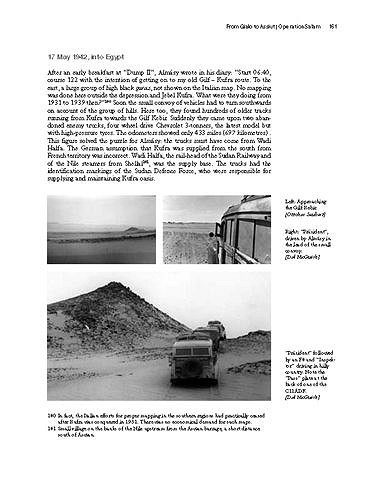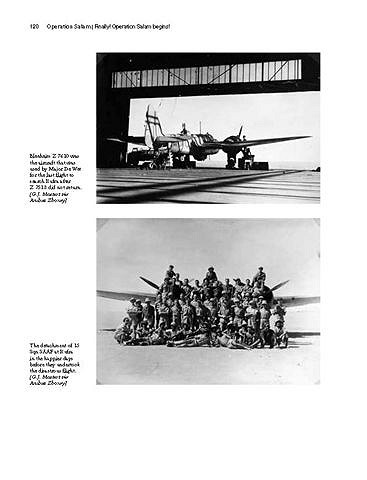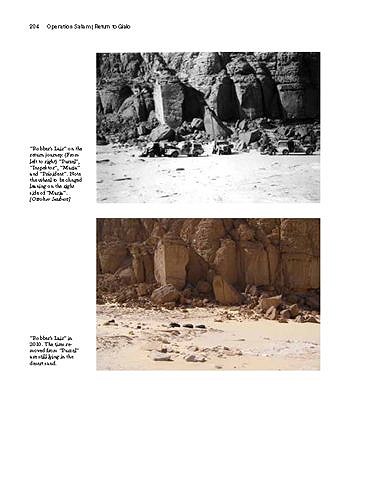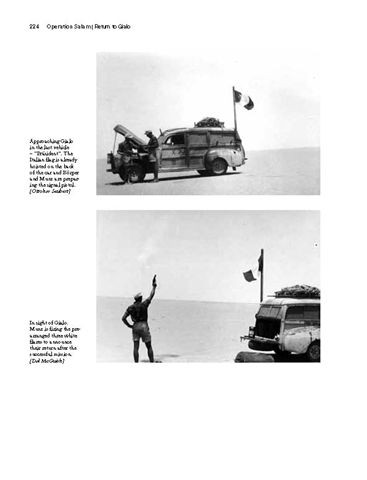 Reviews:
I had always hoped that some enterprising desert-wallahs would search for the answers to the remaining points concerning that epic of desert exploration: László Almásy's wartime crossing of the Libyan Desert in May 1942 to deliver Rommel's spies to the Nile. Now my wish has been granted in this magnificently produced volume. It is a delight to peruse its well designed pages, with beautifully reproduced photographs and maps, an essential accompaniment to the text. The authors achieved what no one else has managed, to retrace Almásy's routes across the desert in 1942. They have not only unearthed the unpublished memoirs of one of Rommel's spies but have discovered a hitherto hidden cache of photographs taken by members of the Salam commando. (read full review here)
Saul Kelly, Kings College, London, author of "Hunt for Zerzura"
I offer my utmost appreciation and congratulations for your outstanding achievement with this book!
Dr. Stephan Kröpelin, Heinrich Barth Institut, Köln
Kuno, Michael, Andras, my dear friends, I have a copy of your book in my hands: your work is OUTSTANDING… this book is a breakthrough.
Roberto Chiarvetto, Italy
My wife and I congratulate you on this elaborate book. It arrived today, many thanks, we were very enthusiastic after turning the very first page.
Andrea & Alexander Almásy, Burg Bernstein, Austria
I am very impressed. It is a beautiful looking book, well laid out and the standard of production is uniformly high. I offer you and your co-authors my heartfelt congratulations. This book fills a space in an important chapter in the history of the war in North Africa in WWII. You can be proud of what you have contributed.
Dal McGuirk, New Zealand
The book. Magnificent. Fantastic. Attention to detail remarkable. Well done. Brilliant pics.
Jonathan Pittaway, South Africa, auhor of "LRDG Rhodesia"
I have read your SALAM volume in three days, and I must congratulate the co-authors of this work. All the effort, all this research! I know this story from various sites and sources, but the plot is very well written, encouraging one to read on - like a good thriller. What was particularly interesting to me was the history and all the circumstances that led to SALAM. I can well imagine Almásy in his casual, sloppy Austro-Hungarian style (my father's generation). What he must have endured with these inexperienced men, even if some of them were willing! I can only raise my hat to all three of you, all from the post-war generation, who dared to tell this story, with a VERY GOOD conclusion. Thank you!
H. O., veteran of Panzerarmee Afrika
The wait was more than worth it. I would definitely rate this book as first class both in form and content for any serious reader.
O.H., Oberstleutnant d.R.
I congratulate the authors on the outstanding result of their five year thorough research in official and private archives and in the desert. It obviously needed their enthusiasm to discover and publish after seventy years the really true story of "Operation Salam". My impression is that the authors have extremely thoroughly double and triple checked the facts before making use of them – a rare quality nowadays.

This book is printed and illustrated by relevant historic and comparative present-day photos as well as maps and drawings in a way that made reading for me easy and most pleasant. I got the feeling to be part of the expedition and was most fascinated by the numerous details told in the story.

If one continues reading after the end of the story itself the contrast between Almásy´s professionalism and the amateur like behaviour of the spies and the naivety of the German signal communication becomes extremely clear and shocking. The comments of the authors on other publications dealing with the same subject seem to me who has read some of them very justified.

I appreciated this serious historic book very much because it greatly differs from many sensational war and spy stories having been published through out the past years.
Manfred Blume, retd. Col. and son in law of Nikolaus Ritter
WOW! What an epic publication! You and the otter authors must be so proud! Brilliant, absolutely brilliant! So detailed! The amount of research that must have been involved is evident in every page. Really forensic - but still a joy to read. I can't put it down at the moment!!!
Chris Ellis, Archaeologist